Double Mountain in the news …
Received: Double Mountain Hopped Whiskey and more…
Quite an interesting package arrived today, containing three bottles in all—only one of which is a beer. Ostensibly it's from Double Mountain Brewery out of Hood River, Oregon, but represents more than just the brewery. Double Mountain partnered with Hood River Distillers to produce a Hopped Whiskey, something I haven't seen before. Here's what HRD says about it: Read More…
---
All About Beer – U.S. Styles
For the 2015 harvest, Double Mountain Brewery, located in Hood River, Oregon, rented a 24-foot-long refrigerated truck to drive two hours to Sodbuster Farms in Salem. In less than an hour, brewery owner Matt Swihart and another staff member collected about 1,400 pounds of Perle hops and hightailed it back to the brewery, where brewing would take place 24 hours a day for three straight days to make 15 batches of Killer Red fresh-hop beer. The process was later repeated to collect over a ton of Simcoe and Brewer's Gold hops for a second beer, Killer Green.
Read More….
---
101 Best Pizzas in America 2015
The Daily Meal
#69 Double Mountain Brewery, Hood River, Ore. (Heirloom Pie: White pie with house-made pesto, whole-milk mozzarella, fontal, pecorino romano, and fresh, local, organic heirloom tomatoes)
It says something about New Haven-style pizza that you can find a menu ode to it nearly 3,000 miles from Wooster Street. Double Mountain Brewery in Hood River (from Portland, that's about an hour east toward Connecticut), may have been named for Mount Hood and Mount Adams, the two volcanoes seen from Hood River, but the pizza menu's heart is in New Haven:
"We make our 16-inch pizza pretty much the same way they do it in New Haven, Connecticut, the pizza capital of the world. We run our ovens at close to 700 degrees F, cooking the pizzas super-fast and creating spots of superficial char on the crust. It creates great flavor."
---
Thrill List – Best Pizza Shops in America 2015
Hood River – DOUBLE MOUNTAIN PIZZA
When the topic of the best pizzas in the Pacific Northwest comes up, it inevitably goes to Portland's Apizza Scholls whose pizza is good enough to make it worth enduring long lines. But out in the idyllic Hood River — one of the best small beer cities in the US — Double Mountain is firing up charred, New Haven-style pies that are on par with Scholls, but without the fuss. These suckers would make Frank Pepe proud, right down to the ciabatta bounce. The specialty pies are great (especially if heirloom tomatoes are in season), though with a pie this finely crafted, you're best to just roll with the simple house-made sausage, onion, and mushroom — which packs sweet, spicy, and salty into each bite — or go spicy with hot capicola and hot peppers, which you can temper with some of Oregon's best beer. And frankly, taking an hour to drive through the Columbia River Gorge is a way better use of waiting time than staring out into the abyss of Portland's Hawthorne Blvd.
---
PuckerFest in Portland
July 2015
Just in time with the release of our Kriek Beers the Annual PuckerFest occurs in Portland. Here's a clip of our Head Brewer and Owner of Double Mountain talking about his beers!
---
Oregon Craft Beer Month and the History of beer in our state of Oregon!
---
Double Mountain Brewery Releases Gypsy Stumper IPA Click to read more…
March 31, 2015 By Dan
(Hood River, OR) — Double Mountain Brewery & Taproom releases bottles of their much loved Gypsy Stumper IPA. An instant taproom favorite from it's debut last year, this complex IPA is currently available on draft and by bottle at the Double Mountain Brewery & Taproom located in downtown Hood River. Gypsy Stumper can be found in both bottles and on draft throughout the Northwest, British Columbia, and Southern California in early April 2015.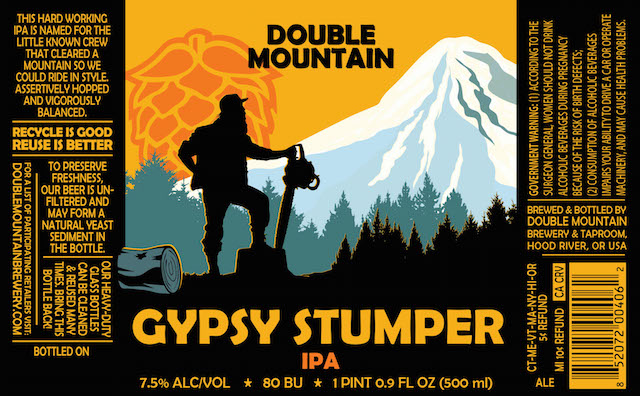 "Our approach with Gypsy Stumper was to create an IPA layered in flavors, and something with a little punch to it. While many of our beers employ a minimalist approach, Gypsy most certainly does not. Pilsner and Vienna malts make up the majority of the malt bill while Mosaic, Simcoe, Challenger, and Centennial hops intertwine to craft a wonderfully hop forward brew, with different flavors stratified throughout.It's sturdy and assertive enough to get you through cutting down tree stumps. However, we don't condone the use of an axe or chainsaw while enjoying."-Head Brewer Kyle Larsen

---
8 Must-Try Oregon Imperial Stouts Released in February
FEBRUARY 23, 2015
Double Mountain: Chaos Reigns
First released a couple years back as a draft only beer, Double Mountain Head Brewer Kyle Larsen's Chaos Reigns Imperial Stout has returned, and this time it's in 16oz bottles. At over over 10% ABV and more than 100 IBUs, it's a classic American Imperial Stout.
Brewer Kyle Larsen writes about Chaos Reigns, "As a brewer, you can only guide the beer you brew. Mother Nature and yeast have minds of their own, and will do what they please within the guidelines we as brewers provide. In homage to the Chaos that rules our lives, we bring you Chaos Reigns. Dark, all encompassing, deceptively silky smooth with a warm afterglow. Make it Reign! 10.6% ABV, 100+ IBU"
Chaos Reigns can be found in both bottles and on draft throughout the Northwest, British Columbia, and Southern California as early as of February 11th, 2015.
---
Beer Sherpa likes "My Little Runaway" by Double Mountain
Feb. 5, 2015
Double Mountain's Matt Swihart yet again succeeds in great beer taste and story. Read on…
---
Oregonian / Oregon Live Click to read more…
Hops Fest – Sept 27, 2014
Double Mountain's Matt Swihart showed up at the recent Hood River Hops Fest in style in the new brewery rig, a 1950 Chevy panel truck he found in Los Angeles.
It wasn't a long drive, since the fest happened around the corner from his Hood River brewery, but the old Chevy with the new V-8 motor is happy at modern highway speeds, Swihart says.
---
Willamette Week Click to read more…
Beer Guide 2014: Hood River Day Sip
If you're only familiar with Double Mountain's bottled standards, you'll gawk at the broad lineup of this downtown Hood River taproom, from big imperials and heavy Belgians to sours and barrel-aged pours. Expansive New Haven-style pies inspired by Apizza Scholls are the treat.
---
August 13, 2014
Willamette Week Click to read more…
Drank: Tahoma Kriek Double Mountain Brewery, Hood River
No one scoffs at fruity beer anymore. Citrus-spiked IPAs are ubiquitous, Stiegl radler has replaced PBR among a certain class of well-coifed patio drinker, and you can find everything from passionfruit to black currants in bottles on grocery shelves. That's all great, especially on the heels of the hairy-chested hop race, but none of those stands up to Double Mountain's Tahoma Kriek.
---
August 13, 2014
Hopped Up Eugene Click to read more…
Gorgeous: Double Mountain Brewery and Taproom
True story, I would do almost anything to live in Hood River, Oregon. Located just an hour outside of Portland, this small town at the base of Mt. Hood is my dream place to retire (early hopefully). Close to Portland, quick access to great skiing, and of course, a great place for awesome beer.
In this series, Gorgeous, I'll be highlighting some great breweries in the Gorge – the greater geographical area of Hood River. I started this series while writing for Beer is Sexy, but I'm hoping to grow it more on Eugene Daily News. First up, Double Mountain Brewery from Hood River, Oregon.
---
July 30, 2014
Boise Weekly Click to read more…
Double Mountain Beers Enter Boise
Founded in 2007 in Hood River, Ore., Double Mountain Brewery recently entered the Boise market. It produces a variety of year-round brews, all built around two-row pilsner malt sourced from British Columbia. I'm a big fan of pilsner malt–it imparts a definite smoothness to the brew. All of Double Mountain's lineup comes in 500-milliliter bottles, which include both bitterness unit info, as well as the bottling date. Here are three of its impressive brews.
---
August 19, 2014
Oregon Live Click to read more…
Double Mountain Brewery & Taproom scores for pub, pizza: Best of Hood River
A step-child of the big brewer in town, Double Mountain Brewery & Taproom was the readers' choice in an OregonLive.com reader survey for the "best of Hood River" in the pub and pizza category.
---
May 13, 2014
Craft Beer Click to read more…
Double Mountain Brewery & Taproom is pleased to announce the release of Lulu Saison Style Beer in reusable, custom designed 12.7oz split champagne bottles. The Lulu will be available in limited quantities in Oregon, Washington, and possibly California.
---
May 12, 2014
Click to read more…
Double Mountain Bottled – Lulu Saison, by Brewer Kyle Larsen
Double Mountain's Lulu Saison is freshly bottled. The beer, a unique blend of tart hibiscus, sweet pink peppercorns, and fragrant pink rose petals, was created by my husband, Kyle, to celebrate the birth of our daughter. Our sweet Lulu turns one in a couple of weeks, along with this fantastic saison. I'm pretty smitten with both the baby, and the beer. It's really wonderful to see it bottled, with the feminine and lovely label giving a glimpse into the back-story of this slightly pink, slightly tart, saison.
---
April 17, 2014
Gorgeous: Double Mountain Brewery and Taproom Click to read more…
Founded on St. Patrick's Day 2007, Double Mountain has a clear mission: make great beer for craft beer fans. These unfiltered and long-aged beers deliver maximum flavor and character – definitely quality beers that people love to drink! The team aims to satisfy both the hardcore aficionados and the more casual craft beer fans, all in the same glass. ….read more
---
April 3, 2014
36 Hours in Hood River, Ore. By MELISSA COLEMAN
Hood River's multifaceted climate is a little like Sochi's — only without palm trees. Popularized as a windsurfing destination in the 1980s, this waterfront town in the Columbia River Gorge is blessed with mild to balmy temperatures nine months of the year, while nearby Mount Hood never runs out of snow. The result is an outdoor adventurer's playground, and the saying "the Gorge is my gym" has inspired a blog of the same name, featuring daily wind and snow reports.
---
April 2, 2014
The Daily Meal: Double Mountain bottling Carrie Ladd Steamship Porter.
Click to read more…
---
March 5th, 2014
Drank: Devil's Kriek 2012 (Double Mountain) by MARTIN CIZMAR
---
February 25, 2014
Double Mountain Molten Lava Imperial IPA 2014 Release
Hood River, OR- February 25, 2014- Double Mountain Brewery & Taproom is pleased to announce the release of Molten Lava Imperial IPA in reusable half-liter bottles. Available in limited quantities in Oregon, Washington, California, and the Vancouver, B.C. area, this hefty beer will be available on draft as soon as February 27th, 2014 and can be found on retailer shelves after March 1st, 2014.
February 6, 2014
Double Mountain Brewing Releases its Kriek in Bottles By washingtonbeerblog
---
2013
June 3, 2013
Double Mountain's Matt Swihart buys out partner Charlie Devereux
"We've talked about this for a while and this is the perfect time for us to make this move, because the brewery is at a great place right now." Matt will continue to sing the praises of reusable glass and ferment new ideas; Charlie's immediate plans include a little time off before starting work on a new venture. David Alan will continue as the brewery sales representative, working closely with Matt to provide excellent customer service to accounts.
2012
Impressions: Double Mountain Brewery
What the city really needs is a joint making delicious pizza that also brews several fabulous beers. A place like…Double Mountain Brewery.